As we continue to work through the shock waves from COVID-19, violence against minorities, and school gun violence, at topic that is very important to take the time to talk about bullying prevention.
Everyone has experienced bullying in one form or another. At one point it was seen as a "right of passage" in childhood. But we know now how truly detrimental it can be. And not just for the victim. Those who engage in bullying behaviors and those who witness bullying all are at risk for negative side effects.
Thankfully there has been a decline in bullying since the 1990's… at least until 2020. The decrease in bullying can be traced to the implementation of bullying prevention programs in schools. But when schools closed in early 2020, the bullying prevention programs stopped as well.
Mix in the increase in technology use (we see you social media) and the overall negative mental health impact that COVD-19 had on the world. And voila, you've got the perfect recipe to increase bullying again.
And October is the perfect time to talk about how to recognize and stop bullying, because for over 10 years now October has been National Bullying Prevention Month. Check out the following information about bullying in the U.S.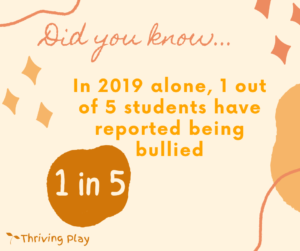 Yep, you read that right. In 2019
alone
. We currently don't have the data in for 2022, and because of the pandemic it's been hard to get the data from the past few years. But it's pretty scary to think that only a few years ago it was 1 in 5 students experiencing bullying as a victim.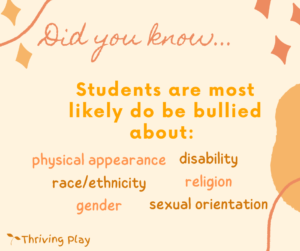 Some of the above reasons are probably no brainers, but when was the last time you thought that a student was being bullied because of their religious beliefs? Or their disability, regardless of the disability rights that are in place for protection.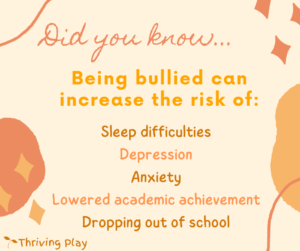 While bullying can obviously target someone's emotions, it can also negatively impact many other parts of that person's life. These are just a few things that can hurt a student if bullying is not addressed or prevented. Yet if a school is able to provide bullying prevention programs, they can expect to see a 25% reduction in bullying by just implementing a strong program.
And even if a boxed bullying prevention program isn't being used, adults can take steps to help students. The most important things that adults can do are showing the student that bullying is not okay. This can be done by listening to the victim, getting updates on whether the bullying stopped, and giving advice to students.
If you believe that your student is the victim of a bully, it's important to get help now. Start by contacting your student's teacher or head of school. You can also get generic support at
www.stopbullying.gov
. For help and questions, we at Thriving Play are always here to guide. You can schedule a free consultation with us
here
.
So what steps do you plan on taking today to help prevent bullying? Leave a comment below!