What to do when your child won't swallow pills? Never fear! We've got pill swallowing tips for you!

First look at what your child can already swallow. If your child hasn't swallowed a pill before, start by showing them they already swallow small things whole, like pieces of corn. (If you want to get real scienc-y, have them take a look at one of their bowl movements and see if they see some food in it. Gross, but it gets the point across!)
When you start practicing, it's important to begin with small pieces and work your way up. You can use candy to practice pill swallowing, but keep an eye on how much sugar they swallow in one sitting! The most common starting size is a mini M&Ms, though some kids need to start with sprinkles to build their confidence. Moving up in size from the mini M&Ms would be the regular M&Ms, then Skittles, then Tic Tacs, and then Red Hot. Stop at the size pill they need to swallow.

You should always allow them to spit out the practice candy and try again, instead of crunching it up and eating it. The main reason is because in a real situation you wouldn't want them to default to chewing the pill. The secondary reason is you don't want them to use the practice as an opportunity to eat candy, right?

In order to be successful, keep in mind that pill swallowing is a SKILL. It shouldn't have to be learned in 1 lesson. Keep practicing and always end practice with a success. This means that if they are unsuccessful at swallowing a certain size, have them go down a size and successfully swallow that one again before ending the session.

And when it doubt, call a child life specialist! Here at Thriving Play we are Certified Child Life Specialists that are trained in helping kids and teens learn to swallow pills. Learn more about our family support services here!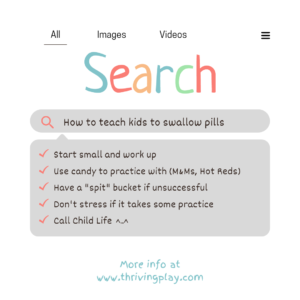 If you are looking for help, shoot us a message! We offer a free 15-minute assessment call to see how we can support you and your family! Click here to schedule your spot. We look forward to hearing from you!